Racing – Sailboat Style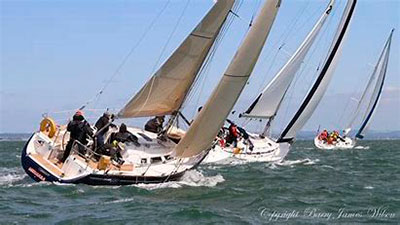 For groups of unto 12 people – up to 6 people of each boat.
Why just ride on a boat which has raced? Take the challenge of ACTUALLY racing another sailboat during your 2 ½ -hour or half day charter. Be an active crew member, taking the helm and handling sails and lines during an actual race. Of course, if you don't want to be an active member of the race, your welcome to ride along for the fun adventure and learning experience. Learn how modern sailboats sail into the wind. Or what all the lines (ropes to non-sailors) do? When to use them! A sailboat is a lot like an airplane – many of the same principles apply. There are a lot of controls and instruments. Learning to use them properly takes training and experience. The captains on both of these boats are also Pilots!

Put part of your group on a monohull sailboat that will heel over like the above image (Knot the Office operated by U.S.C.G. Master Captain Paul) and the other part of your group on our partners stable yet fast catamaran (Bucket List, operated by U.S.C.G. OUPV Captain Joel). Your group is sure to have an unforgettable afternoon of fun, adventure, challenge, and sense of accomplishment.

This sailboat racing Charter opportunity is the only one of its kind offered in Hilton Head SC. Grind your way windward in a tacking duel on either sailboat in close quarters, battle out friends / family / coworkers on the water towards victory. Winners receive endless bragging rights and probably the ability to drench the other crew with a super soaker water gun as you pass them!

Perfect Event for:

Family
Friends
Team Building for you and your business associates
Bachelor / Bachelorette party's OR – Bachelor VS Bachelorette Party Race

Call us today to put your race on the schedule. A racing charter is weather / wind dependent, while we can't do a lot of racing without good wind. We can still have a great time on a charter in most weather.

Include the full experience – for a small additional fee per person

Receive onboard video of your experience on both boats
Receive sailing medals, each person will get a 1st place (winners medal for first place boat) and 2nd place will each receive a "We will get EM. next time" Medal.
A complimentary bottle of Champagne (one for each boat) to toast the Victory and "Victory Slip" photo session for all participants

Click on the images below to view a larger display.